Simple
Announcements
for Confluence Cloud
Keep your project documentation, requirements, notes hosted right inside your Jira instance.
Rated on Atlassian Marketplace
Features

Announcements in your Confluence Cloud
Simple Announcements provides a better, and richer way to display announcements compared to the Confluence built-in header.

Easy Creation of Announcements
Announcements are easy to create using the same Rich editor that Confluence already uses. No new markup of features to learn. Simply follow what you already know.

Different types of Announcements
Simple Announcements is starting with 2 different styles. An informational and an urgent announcement, each with its own style to convey different urgency. More types to come soon.

Schedule Announcements
Schedule your announcements to start sometime in the future, and/or to end on a specific day. Ideal for time-specific information.

Track Read-Receipts
Simple Announcements automatically tracks read receipts, and provides a way to review who has already seen an announcement.

Manage visibility
Decide whether you want to show your Announcements to public users or only logged in users.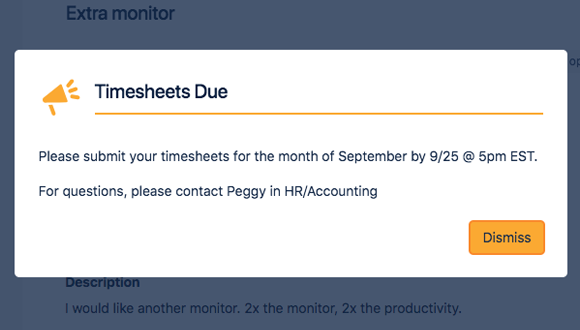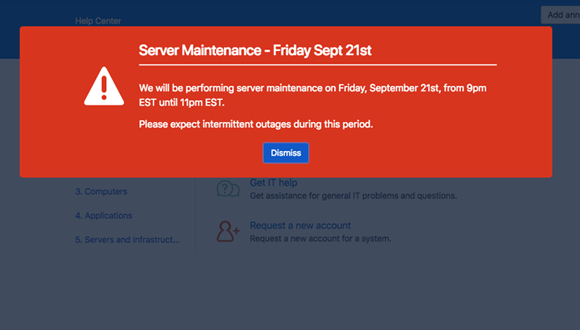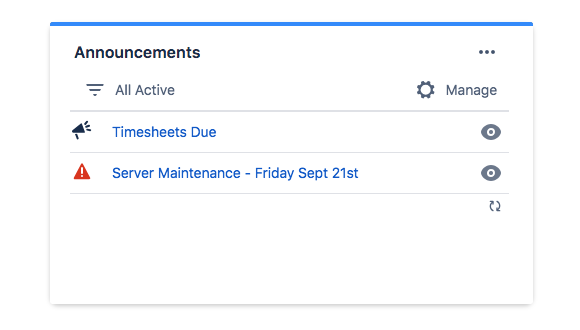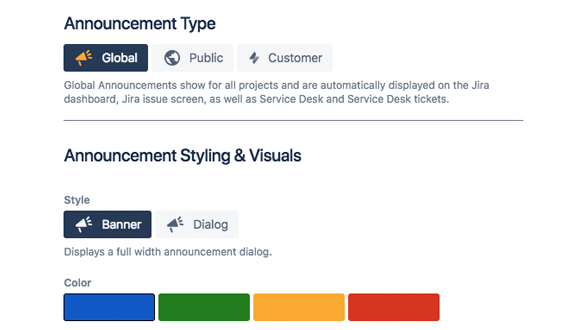 Support
Whether you have a product question or a general inquiry, our Support team is here to help. All you have to do is submit a ticket and we'll respond shortly.
SUPPORT CENTER
Our documentation
Managing Announcements
Quickstart to get you up and running
Authoring Announcements
Create rich announcements for your users
FAQ
Why would I want to use this instead of the built-in Confluence Announcements?
Confluence itself doesn't have true announcements support. It does expose a common header and footer element that an admin can set, but these only support basic markup without any additional functionality.
In comparison, the Simple Announcements app allows having multiple announcements active, scheduling of announcements, as well as easily changing the visuals.
Additionionally, the way Confluence currently shows the header can be a bit confusing, as it shows beneath the breadcrumb of a page, thus making it look like the announcement is actually part of the page itself, instead of being separate.
Can I show Announcements on all Confluence screens?
Yes!
This happens automatically when you create an announcement.
Can I have multiple announcements at the same time?
Of course!
You can create multiple announcements and have them active at the same time. The same counts for scheduled announcements as well. The app will always grab the first announcement a user needs to see, and then once the user has acknowledged it, we automatically load the next announcement until all of the active ones have been shown to the user. Thus, users only deal with 1 announcement at a time, but all the announcements are shown one after another.
Can I have space-specific announcements?
Not yet.
We are however actively investigating adding space-level announcements and hope to have something in production by the end of the year. If this is something you currently need, please feel free to reach out to us, as we would be happy to understand your particular use-case in more detail.
ALL QUESTIONS
Try our other apps
Apps for Jira and Confluence
EXPLORE